Our Family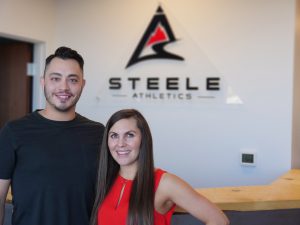 Brent Steele – Owner
Brent is originally from Oklahoma where he cheered at the University of Central Oklahoma. He graduated with a degree in Public Relations while simultaneously starting to grow his coaching and choreography career. After graduation Brent stayed in the Oklahoma City area where he managed a competitive cheerleading program called Empire Elite. His award winning choreography has won titles all over the United States and in Europe. Brent has spent time coaching in the Denver area and has a reputation for success.
Tiffany Valdez – Owner
Tiffany comes to us as a Colorado native growing up in north Denver. She went to school at the University of Colorado at the Boulder campus. She was coaching competitive cheerleading while achieving her degree in Psychology. Upon graduation Tiffany continued to coach and also teaches Pure Barre. She has a strong passion for fitness and cheerleading. Tiffany has worked with teams of all levels around the United States and in Europe. She is known for her honest perspective and her organized brain.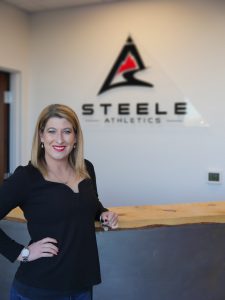 Erin Ehlebracht – Site Director Denver
Erin is originally from the Chicago metro area. In 2007 she moved to Boulder, CO to attend the University of Colorado. She was a member of the all-girl cheerleading squad from 2007-2012. Erin graduated from CU with a degree in Integrative Physiology. As an athlete Erin has compete at the highest level including the Cheerleading World Championships and the NCA college national championship!

Erin is one of the most decorated coaches in the state of Colorado. Her coaching has won numerous national titles, some as prestigious as the NCA All Star Championship and the Summit National Championship.
---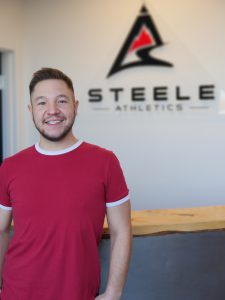 Jason Broddle – Gym Manager Denver
Jason comes to us all the way from Oklahoma! He double majored at Oklahoma State University earning degrees in Public Relations and Sports Media. Jason has a vast background in power tumbling and has over 10 years coaching experience!

Jason was a cheerleader for both Oklahoma State and Twist and Shout. He puts a major influence on technique and proper progression.
---

Gabe Lozano – Coach
Denver Location
Gabe is originally from Texas and currently attending the University of Colorado at the Boulder campus. Gabe is starting his 5th year as a member of the CU co-ed cheerleading team. As an athlete he has cheered at the highest levels including the Cheerleading World Championships and UCA College Nationals!

He has a very outgoing and fun loving personality. Gabe loves to share his passion for cheerleading with his athletes.
---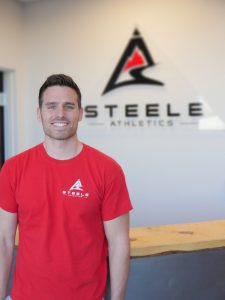 Vinny DeMarco – Coach
Denver Location
Vinny is originally from Long Island, New York but has been in Colorado for 2 years now. He attended Hofstra University where he attained his Masters Degree in Physical Education. Vinny is currently a P.E. Teacher at Peabody Elementary School in Littleton, Colorado. While attending Hofstra University he was on the Co-ed Cheerleading team. He went on to coach at Hofstra and was able to acquire 4 National championships between his athlete/coach years.

Vinny has a very profound resume and has coached teams of the highest level. He has 3 top five finishes at the World Cheerleading Championships as a coach. Vinny has a loud and loving New York personality that will light up the room!
---
Nicole Stanley – Coach
Denver Location
---
Kallie Steele Squillace – Customer Service
---

Shannon Mitchell – Gym Manager Northern Colorado
---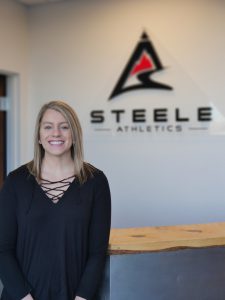 Sarah LaCount – Coach
Northern Colorado Location
---
Aly Birnbaum – Coach
Northern Colorado Location
---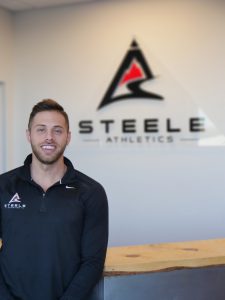 Jake Compston-Chester – Site Director Colorado Springs
Coach Jake comes to us from the Lone Star state, Texas. Growing up Jake was a competitive gymnast for 8 years, he then made the switch to cheerleading where he competed Allstar, World, High School, and at the Collegiate level. Within the past 10 years Jake has won multiple National and State Titles as well as grabbed some innovative choreography awards. Though cheerleading is his passion he also takes pride in health and fitness. In 2015 Jake earned his Professional status in the IFBB League, and has since competed as a pro. He continues to stay on top of his health in hopes of motivating and inspiring his young athletes to do the same.
---

Charles Chester – Gym Manager Colorado Springs
Charles Chester a graduate of Trinity Valley Community College(Back2Back NCA College Coed Champion 2001 and 2002 Juco Division) and a graduate of Texas Tech University 2005 with a Bachelors in Exercise Sports Science/Food and Nutrition and minor in Spanish. Participated in the 1996 Opening Ceremonies Olympics with TVCC, a member of the 1st USA Team with Connie Russell. Head cheer coach for Tyler Junior College 2009 and 2010(placed 2nd NCA College Nationals Juco Division) and had the pleasure judging for Varsiry, Spirit Celebration and Cheersport.. Currently a certified personal trainer, ISSA and a Mens Physique Fitness Pro.
---

Jonathan Rhodes – Coach
Denver and Colorado Springs Locations
---

Mallory Olson – Coach
Northern Colorado
---

Britney Hildreth – Coach
Denver Location
---

Alayna Stoner – Coach
Denver Location
---

Whitney Williams – Coach
Colorado Springs Location
Whitney cheered for 18 years and is going on to her 5th year of coaching. She is excited to be a part of the Steele Athletics family! Whitney is a 2012 World Champion and assisted in coaching a Worlds team in her hometown, Buffalo, NY. Whitney values mental toughness and education. She has a degree in Psychology and is currently working to get her Master's in School Counseling. Outside of competitive cheerleading she enjoys watching UFC fights and going to motocross races.
---

Tyler Delacruz – Coach
Denver Location
---

Debra – Director of New Programs
Northern Colorado Location
---