Stunt Classes
*Classes are purchased monthly and will be prorated for any athletes that join mid-month. You will automatically be enrolled in class for the next month on the 15th to save your place. To withdraw from the class, email your site director (Jason@steele-athletics.com Denver Sarah@steele-athletics.com Loveland Jake@steele-athletics.com Springs) before the 1st of the month when tuition will be withdrawn. Price listed below is prorated*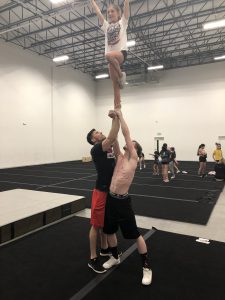 Register for Denver Classes:
Register for Northern Colorado Classes:
Register for Colorado Springs Classes:
Group Stunt Class:
Develop and master flying fundamentals. The classes will be tailored and based off of level and ability.
Coed Stunt School:
Whether you are a boy learning how to toss or a flyer learning how to jump we have the class for you. This class will be focused on timing, technique, and strength all needed for coed stunting. Once the basics are mastered we will teach your athlete the high level skills associated with coed stunting.